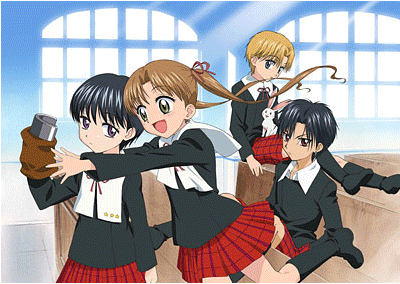 Otakus Gone Wild
this is the forum where Gakuen Alice, Vampire Knight, Pandora Hearts, Naruto, Kaichou wa Maid Sama, and Shounen Dolls Fanfiction authors and readers go wild!!

since people are complaining about the loooonnggg web url, i decided to change the domain name, you'll just have to type in http://otakusgonewild.tk is that okay, people?
deactivation of inactive users is inevitable, if you dont want your forum chatmate's name erased from this forum, you should probably notify them immediately , i send them notifications and emails, but then they dont comply to them, if yoou dont see the messages in your inbox, you should probably check your SPAM BOX iinstead.
| | |
| --- | --- |
| HELL NO !! | |

Author
Message
yOur_bEauTifuL_mesS
Admin





Posts

: 194


Join date

: 2010-04-22


Age

: 27


Location

: San Fernando, La Union, Philipines

Character sheet
Gakuen Alice:


Subject: HELL NO !! Wed Jun 30, 2010 8:23 am

---

so yeah, there's a person here that's so "self explanatory it's getting annoying"

which really annoys me to death. not only me, but others too (they've been PMing me)

in tagalog. "Masyado ka nang Mayabang."

lighten up a bit. i know, you text me (at times) , we chat about things, we see each other everyday but this is getting too far.

you're not a new member here, in fact you're one of the first ones here in OGW.

respect other people's opinions and don't act like such a jerk. (it pisses people off)

don't act like you're all HIGH and MIGHTY that even the admins and moderators follow your orders. don't act as if you're the only living person on earth. because we are also HUMANS who have brains and can do better than YOU. don't act as if YOU founded this forum . complaining about small things, not using your own mind. yes , you may have posted in this forum while nobody's around, you have complained yet again, you complained about the attitude certain people have in this forum, but hey, YOUR ATTITUDE IS MUCH MUCH MUCH WORSE. you go around and judge people by their posts. WELL F*CK Y** ! because you're wrong, they are WAY better in writing, judging, making friends, english grammar ..better than YOU ! you're not the best, others can do better than you. definitely better.

stop all these faking. do you think I'll allow this? well NO. HELL NO.

you know who you are.

_________________

Me:

Stupid Jerk...

Elliot Nightray:

Annoying Girl...

Both(at the same time) :

What did you say ?!

Both(at the same time) :

Nah, I just said you're cute when you're angry :"3

--YEAH, that is

OUR

kind of love

XD

Guest
Guest





Subject: Re: HELL NO !! Thu Jul 01, 2010 4:56 am

---

"we see each other everyday" OMG is this me?

(

yOur_bEauTifuL_mesS
Admin





Posts

: 194


Join date

: 2010-04-22


Age

: 27


Location

: San Fernando, La Union, Philipines

Character sheet
Gakuen Alice:


Subject: ========== Thu Jul 01, 2010 4:59 am

---

the what?? !

NO HUNNY, that is NOT YOU

_________________

Me:

Stupid Jerk...

Elliot Nightray:

Annoying Girl...

Both(at the same time) :

What did you say ?!

Both(at the same time) :

Nah, I just said you're cute when you're angry :"3

--YEAH, that is

OUR

kind of love

XD

Guest
Guest





Subject: Re: HELL NO !! Thu Jul 01, 2010 5:03 am

---

Ooooooh, I though it was me.. >_< XD

The person you are referring to seems kind of arrogant.

Guest
Guest





Subject: Re: HELL NO !! Fri Jul 02, 2010 6:28 pm

---

@sam-chan and nicx-chan:

uhhh...who's that??

am I one of the first members here in this forum?

uhhh...somebody tell me who's that?

Guest
Guest





Subject: Re: HELL NO !! Fri Jul 02, 2010 8:02 pm

---

eh, nicx-chii

uhhhmmm...That's person who you are reffering to...it's not me, right?

Guest
Guest





Subject: Re: HELL NO !! Fri Jul 02, 2010 8:36 pm

---

I hope it's not one of us kelly-nee

Guest
Guest





Subject: Re: HELL NO !! Fri Jul 02, 2010 9:20 pm

---

@ten-ten - Of course it's not kelly-chan, she's not one of the first members, and they don't see each other every day. DUH

Guest
Guest





Subject: Re: HELL NO !! Sat Jul 03, 2010 1:16 am

---

@sam-chan: yeah...that's pretty impossible...
is it me? cause we see each other every day...but we're not texting each other nor chat...the only time we chatted is...well last saturday I think

Guest
Guest





Subject: Re: HELL NO !! Wed Jul 21, 2010 3:46 am

---

hey couz got an idea on who that arrogant member is?

Guest
Guest





Subject: Re: HELL NO !! Fri Jul 23, 2010 5:17 am

---

@ten-ten - You're not even one of the first members. TT^TT

Guest
Guest





Subject: Re: HELL NO !! Fri Jul 23, 2010 5:44 am

---

@sam:yup pf course.I know now who it is ya know.

Guest
Guest





Subject: Re: HELL NO !! Fri Jul 23, 2010 6:56 pm

---

@love: huh??? who is it???

Sponsored content






Subject: Re: HELL NO !!

---

| | |
| --- | --- |
| HELL NO !! | |